Gabriel DeRanzo and MSCA member Greg Cravens have kicked off another "Stoned Ninja" Kickstarter, and are hoping you'll get their back by being a backer for this current comics campaign.
Stoned Ninja #1 SAP! This comics fundraiser is for The Second Advanced Printing of Stoned Ninja: A New Strain of Hero #1. It features remastered cover art by Greg Cravens and Gene Fayne.
Stoned Ninja is the story of Kazunori Takagi, a ninja who finds a mystical strain of weed that gives him super human abilities! This New Strain of Hero uses his skills to defend Reef City from evil!!
Pledges start at just $1.00, and go as high as up to $420.00. For local backers in the M-town, they also offer a no shipping fees option– just pick up your Stoned Ninja stash at  901 Comics once the copies are back from being printed.
Several stretch goals are included- and we all know how important stretching can be!
In addition to the new remastered cover art by Greg Cravens., there are also a couple variant covers being offered.
"Action Figure" variant cover by Greg Cravens.
"Bloody Ninja" variant cover by Dusty Jonakin.
You can get a taste of the comic (and some Stoned Ninja edibles) around town at places like 901 Comics and Whatever or by going to their websites www.stoned.ninja (if you're 21 or older) or at www.stonedninja.com.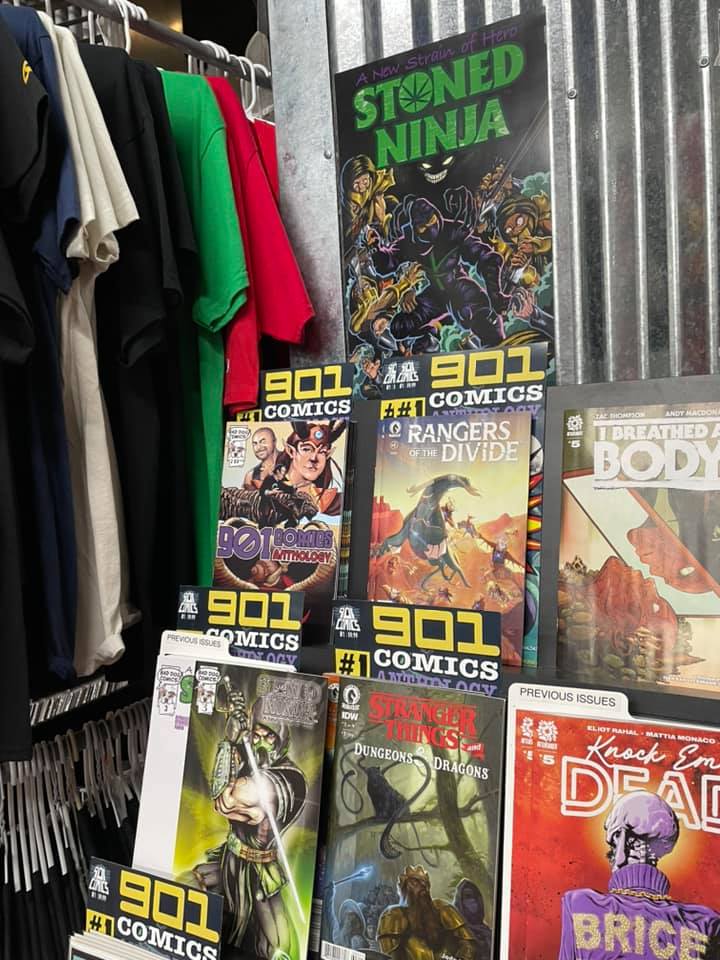 Lots of comics and merch to be harvested including variant covers and blank sketchcovers.
If you're in the Memphis area be sure to say, "Hi!" (or "High..!") and have Greg draw all over your comics at one of our monthly MSCA dinner meet-ups at Garibaldi's (a great place to have the munchies), or at the upcoming Memphis Comic Expo(DonnieCon).
The campaign is currently at just over $2K and has already smoked its $1,000 funding goal (so to speak) which means this project will become a reality and not just a pipe dream for the Stoned Ninja team and their readers.
But the guys are looking to go even higher to unlock those stretch goals for their backers. They've got 26 days to go on Kickstarter and could still use a hand with this campaign.

Kickstarter profile: Stoned Ninja Comics
Websites: stonedninja.com or stoned.ninja
901 Comics
2162 Young Ave.
Memphis, TN 38104