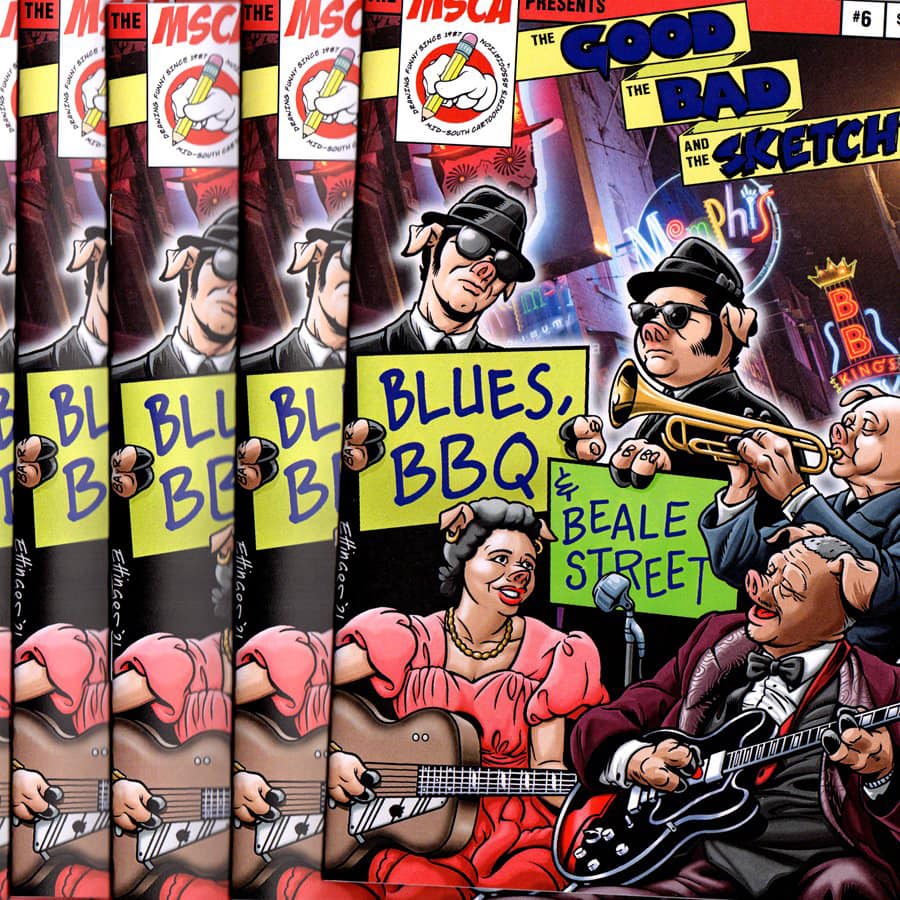 This just in…the latest issue of "The Good, The Bad, and the Sketchy" zine! Issue #6 has a Memphis theme and features a cover by MSCA member Charles Ettinger. You can purchase a copy at any of the 3 local comic shops here in Memphis- Comics & Collectibles, 901 Comics, and The Cellar.
If you've missed out, there are still copies of issues #1-5 available, too.
While you are there be sure to snag some free swag– MSCA, Drawing Funny podcast, and Memphis Ghostbusters items are available while they last- buttons, pins, stickers, magnets, and more.
At The Cellar you can purchase some original art by MSCA members!
There are hand-drawn sketchcovers…
…and hand-drawn sketchcards available, including official artist returns from sets like Star Wars, Transformers, Mars Attacks, and more.
Two new Ultraman artist returns from RRParks Cards were recently added to the inventory of sketchcards.
Each is a one of a kind original art piece drawn by Lin Workman (me).
I did 10 sketchcards for the set, plus the two artist returns. You can see how I created them and others on my site- linworkman.com.
April 2nd was World Autism Awareness Day, and April is Autism Awareness Month.
BTW- if you are interested in starting up a Kickstarter or other crowdfunding campaign for your own art project, check out some of the Drawing Funny podcast episodes. We will have other episodes on Kickstarter, Indiegogo, GoFundMe, and Patreon coming up. You can find links to other comics related podcasts on our MSCA links page.