Here are some of our current MSCA members, and where to find them on the web. If you're a member and want to be added to this page please give Kev or Lin a yell!

Kevin L. Williams
Kevin is the founder of Kevin L. Williams Productions and creator of Muley the Mule and Friends (comics and puppets). He served as President of the Mid-South Cartoonists Association, once a sub-chapter of the National Cartoonists' Society's Southeastern Chapter, from 2000-2012 and again from 2018 – present, co-chairing events and art shows, including workshops, on behalf of the MSCA as well as other groups and associations, including speaking engagements such as the Cartoonist-in-Residence at the Charles M. Schulz Museum in Santa Rosa, CA. While his comics have been published in all forms of print in national and international print, The Muley and Friends Show puppets have been presented in nearly all media and live shows on the same stage as Snoop Dog, The Blues Brothers Band, and Huey Lewis and the News, leading to auditions with the Jim Henson Company, Sesame Workshop, and The Walt Disney Company. Since 1995, he has been editor of MAW Productions' Jetta: Tales of the Toshigawa and Shinobi: Ninja Princess graphic novel series, and has contributed art and services to works and shows of other businesses. He has edited the MSCA's two anthologies as well as comics for other businesses and associations. 2018 co-founded the fan group Memphis Ghostbusters Franchise.
Websites: www.muleythemule.com
www.muleyshow.com
www.kevinlwilliams.com
www.toshigawauniverse.com
www.memphisghostbusters.com
Facebook: facebook.com/Muley-the-Mule-144786652214669
Facebook: facebook.com/toshigawaninja
Instagram: @kevin_muley
Twitter: @KevinAndMuley

Lin Workman
Lin is the creator of the webcomic/geek travel blog Have Geek Will Travel, the webcomic Scared Silly , and is co-creator of the self-published comic book series Bushi Tales.  He has been an artist and screen printer in the t-shirt industry for over 30 years, and designed monuments for five years as a graphic artist. He has done his fair share of freelance work and contributed his talents other comics/zines, novels, trading card sets, and murals. Lin served as the President and Vice-President of the Mid-South Cartoonists Association (MSCA) for 4 years and 9 years, respectively- and is the MSCA's assistant webmaster and the host of the MSCA's podcast Drawing Funny. Lin is also a member of the DeSoto Arts Council and the Memphis Ghostbusters. He's married to the MSCA's webmaster Nicki Workman, and has 3 kitties- Jarael, Lex, and Lena.
Websites: www.linworkman.com
www.havegeekwilltravel.com
www.drawingfunny.com
www.teepublic.com/user/lin-workman-art
Twitter: @linworkman
Instagram: @linworkmanart
Facebook: facebook.com/artistlinworkman

Dale Martin
Creating comics featuring his original characters since 1982, Dale is a Memphis-basedartist, writer, & publisher. He's best known for a comic you've probably never heard of, Watusi the Talking Dog; fortunately, you can rectify that at www.watusithetalkingdog.com. Inspired by Tim Corrigan and the small press scene of the mid-80s, Dale still enjoys self-publishing his comics. Crafting the finished form of a project is as much a part of his artistic process as the words or the pictures. In addition to his self-published work, Dale has had comics published in anthologies across the country. 
Websites: watusithetalkingdog.com
smearysoapboxpress.com
www.dragontemplar.com
Twitter: @smearysoapbox
Instagram: @smearysoapbox

Antonio D. Johnson
Antonio is a freelance cover/pinup artist and graphic designer. Also, he's the  creator, writer, and artist of the highly anticipated novic BluffCityBlues. He has created pinups for MAW Productions' Turra: Gun Angle and Shinobi: Ninja Princess. He has also done work for and is a contributor at InkPot Comics.
Website: www.adjdesign.com
Instagram: @_adjdesign
Facebook: facebook.com/adjohnsondesign
EMAIL: adjohnsondesign@gmail.com

Greg Gravens
Greg Cravens is a Memphis based cartoonist with more clients served than it'd be wise to shake a stick at. He's provided comic strips, caricatures, puzzles and games, humorous illustrations, and children's books for Newspapers, government agencies, Ad agencies, restaurants, sports teams, individuals, children's hospitals, universities, and heaven only knows what else. He's old and he's always busy- you know how things add up.
Websites: www.cravenscartoonist.com
www.hubriscomics.com
www.gocomics.com/thebuckets
www.gocomics.com/hubris
www.stoned.ninja
Instagram: @greg_cravens/
Twitter: @Hubriscomics

Jim Palmer
Jim is a freelance cartoonist who has created a number of comic strips over the years, including LI'L E: The World's Youngest Elvis Impersonator. He has provided illustrations for Scholastic Teaching Resources, Evan-Moor Educational Publishers, and Voices of the South Theatre Company. He is currently producing several packages of clip art for his Teachers pay Teachers online store: PALMER'S PIX. He and his wife JoLynn can frequently be seen acting in theater productions around the Memphis area, or occasional TV and movie appearances.

Kevin Thorn
Kevin is the Chief NuggetHead at NuggetHead Studioz, LLC. where he designs interactive instructional comics and learning games for big companies. Retired veteran of both the US Army and the corporate cubicle farm, Kevin now spends his days either slinging ink for clients, teaching others how to sling ink, serving as a member of the City of Hernando planning commission, or working on his PhD.
Website: www.nuggethead.net
Twitter: @learnnuggets

Gracie Smith
Hey there Reader!!
My name is Grace Smith, I'm a Young Artist but I've been drawing for a while. I'm currently 18 and a Senior at Horn Lake High, I've been drawing ever since I took a crayon to my wall as a child. I hope to show my art in a nice positive way that I can show and I hope you enjoy so as well.
Have a Good Day!
YouTube: Creator Grace
Twitter: @WarriorGrace55
Instagram: @warrior_grace55
TikTok: @creatorgrace55

Nicki Workman
Nicki is the resident MSCA tech-geek/webmaster and container of limitless useless knowledge. She is a fan of Star Wars, Batgirl, Wonder Woman, Doctor Who, Muppets, Captain America, Winter Soldier, Black Widow, video games, comics, soccer and hockey. Nicki has been a regular panelist at MidSouthCon in Memphis, an occasional guest on the Drawing Funny podcast, and an avid amateur photographer. She is married to the MSCA's Lin Workman and is currently working on her Masters degree..!
Website: www.fangirlwednesday.com
Website: www.nickiworkman.com
Twitter: @TNPredsFan
Twitter: @NWorkmanPhoto
Instagram: @nworkmanphoto

Peter Melonas
Peter Melonas always has had a passion for art from a very young age. An Artist who was first influenced by his father who fueled a fascination with all aspects of the Arts. Throughout his lifetime, He does still prefer the much loved labor of the pen stroke, the use of dark and light for creating the illusion of depth on the flat surface of the paper and the following satisfaction upon completion. Peter specializes in creating images of characters represented within the mainstream of pop culture.
Website: www.artquid.com/fancifullart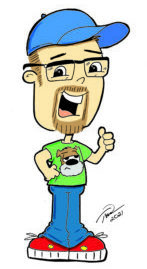 Tim Jones
Tim is a self-syndicated comic strip artist from Rhode Island where he lives with his wife and two daughters. Cartooning for over 20 years, he created his comic strip, Sour Grapes, in 2013, which is currently published in multiple newspapers throughout Rhode Island, Southern Massachusetts, California and Texas. Tim is a member of ARIA (Association of Rhode Island Authors) and a member of The National Cartoonists Society.
Website: www.sourgrapescomic.com
Facebook: facebook.com/SourGrapesComic
Instagram: instagram.com/sourgrapes2017     @sourgrapes2017
Twitter: twitter.com/sourgrapescomic         @sourgrapescomic
NCS: www.nationalcartoonists.com/member/tim-jones/
Terence B. Washington
" I truly believe art is where the head, hand, and heart are one."
Terence is a married father of two wonderful kids, a great loving wife, and a veteran of the United States Air Force. He has loved art his entire life and considers art as a gift, blessing, and friend. He has rendered paintings, and worked in multiple mediums. He has also published a children's book where he did all of the illustrations and text.
Terence enjoys all genres of art including photography and his style is as spiritual and passionate as his love for art drives and sustains him. His primary medium is acrylic paint but has aspirations to created 3D renderings, mixed media, and sculpting. Additionally, Terence has aspirations of owning an international gallery enabling involvement in the global community , with the goal of creating a positive effect on our world especially children.
Terence currently resides in Memphis, TN, after relocating from North Carolina. He also lived in Canada for several years where he gained a global perspective of the contributions and responsibilities of Americans.
His artwork has sold at the Swann Auction Gallery of New York, local sales and promotions through Church exhibitions.
Lonnie Easterling
Hi, my name is Lonnie Easterling. When I was a baby, my grandfather nicknamed me "Spud". Since November 2008 I have been drawing and posting my silly single panel cartoons. Now they can all be found in one place along with brand new panels! Check out the Archives on my website. There's hundreds of these goofy things! If you'd like to contact me, my social links and website info are below.
Website: www.spudtoons.com
Facebook: www.facebook.com/spudtoons
Instagram: www.instagram.com/lonnie_easterling
Twitter: www.twitter.com/spudtoons
DaMarco Randle
Born in the swamplands of Brinkley, Arkansas, my interest for art began at a very young age. My art interest really peaked as I began watching a 6 a.m. TV show called "Pappyland".
It was a program that taught us young ones how to draw using basic shapes and having fun while doing it. This allowed me to practice and try to perfect my craft. I then discovered Bob Ross's program which helped me develop techniques in painting. As I graduated high school, I was recommended by my art instructor to Memphis College of Art. ​
Having learned so much to perfect my craft from the school, I am now a Memphis College of Art Graduate with a major in painting and a sculpting minor.  I earned a Bachelor's Degree in Fine Art, and it all started because of a TV show.  Since then, I have won numerous awards, assisting with one of Memphis's most gifted artists with murals at Bruce Elementary School, Memphis International Airport, and so much more.
I have now learned to absorb the art that I was taught, breaking boundaries within my mind to expand my knowledge in the field. Being a person of color there were boundaries I had growing up, but I didn't care. I had purpose and ambitions. Life wasn't always an easy task, having to escape social battles through art and the means to create no matter how hard life got. Just as my life changed to beat obstacles, my art changed.
Nowadays, I focus on my own forms of characterization. That means I'm creating characters based on my psyche that will tell my life story in an abstract manner. In creating the many worlds and its habitats, I like to look to the original conflict of the stories from my life experiences. I have developed a technique to create nuance in these places that exist in my head, based on my hometown of Brinkley, Arkansas. This all illustrates past experiences that resulted in this body of work. With portraiture, abstraction and realism these personalities and portrayal of those from the past emerge gradually through the different styles of painting.
Website:: www.damarcoarts.com
Former Members
Jack Cassady
Dave Beaty
Mike Norton
Bob Kimball
Scott Stantis
Michael Ramirez
Steve Stanley
Jim Hall
Dean Zachary
Adam B. Shaw
R.I.P.


Sam Ray

Anthony Biggers