On Friday, November 12th Nicki and I eased on down the road to check out MSCA member Dale Martin's opening reception for his latest art show "Beyond The Emerald City" at Playhouse on the Square. We were running a bit behind getting to the show after grabbing some dinner at The Bayou around the corner, but were able to follow the black top road (Cooper Street) to it with a few minutes to spare!
It's being shown upstairs in conjunction with Playhouse's performances of "The Wizard Of OZ". Talk about some fortuitous timing..!
Dale is a huge fan of the Land Of OZ, and it has been featured prominently in his "Watusi The Talking Dog" comics, zines, and art.
The art show is on display at Playhouse through December 28th, 2022 and can be visited during normal business hours and play performances.
To see the art show, as well as other art on display upstairs, just take the stairs (or elevator) to the second floor.
Dale's show is just to the right and down that hallway. Many wonderful Wizard of OZ inspired pieces are hanging on both sides of the hallway space.
Dale and Wendy had refreshments and a pop-up shop set up at the top of the stairs near where his art pieces are on display.
There were prints, comics, and zines available for purchase, and Dale will have another pop-up-shop there on December 10th, from 10am-1:30pm.
Nicki and I really enjoyed getting to see Dale's show, plus seeing some familiar faces including the MSCA's Courtney and Kevin (and his friend Lisa) who were there as well when we finally arrived.
We loved checking out much of the other art by various artists that was on display at Playhouse on the Square by Priscilla Cunningham, Gerecho Delaney, Suzanne Evans, and Martha Kelly. They even had a large monitor  showing what was happening on stage at the time.
The space inside was amazing, as was the art. Really want to come back to explore more of the gallery areas and spend more time with the art.
Hope you can make it down to Overton Square to check out Dale's "Beyond The Emerald City" art hos. Just be careful crossing the street –  Overton Square is pretty hoppin' these days and you know how Memphis drivers can be when it comes to yielding to pedestrians, even at rainbow colored crosswalks!
Playhouse on the Square
66 South Cooper Street, Memphis, TN 38104
HOURS: Monday – Friday: 9AM – 5PM
Phone: (901) 725-0776 / Fax: (901) 272-2309
Email: info@playhouseonthesquare.org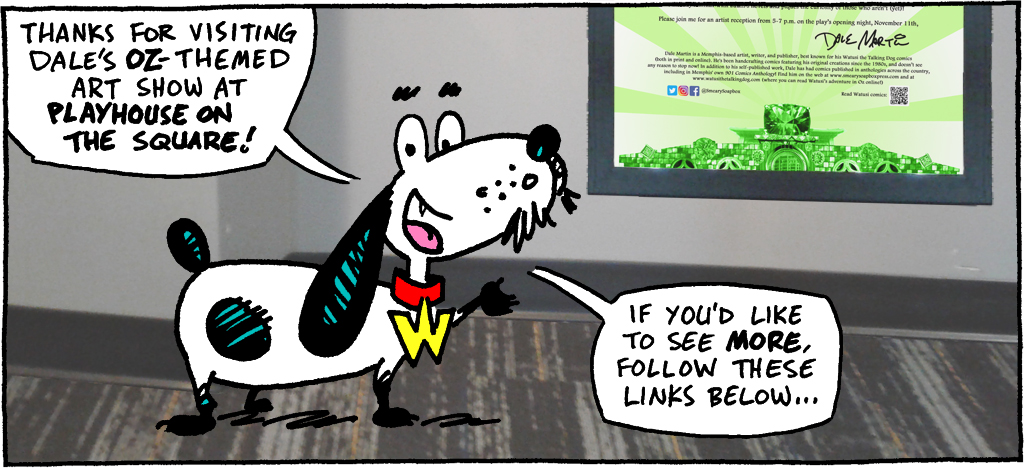 Newsletter subscription: eepurl.com/bawHc9