Time for some podcasting news…my wife Nicki and I have both been on podcasts featured on YouTube.
Recently Nicki was was asked to come on the Pencilled In Podcast and talk business with hosts Lindsey and Ingrid. Nicki shared some advice on art as a business, starting/running asmall business, intellectual properties, and more on Episode 78.
She's currently finishing up her MBA at the U of M and there will be some serious celebrating in August when she graduates!
Was always great to have Nicki with me back when I was setting up at conventions, and I value her business advice immensly!
The Pencilled In Podcast usually focuses on creating sketchcards and trading cards, but they occasionally branch out to other topics that deal with art, self-publishing, and more.
Lindsey and Ingrid both self-publish their own swets of trading cards, and Ingrid has published three volumwes of "The Art Of Sketchcards" books. I had a few of my sketchcards featured in the third volume.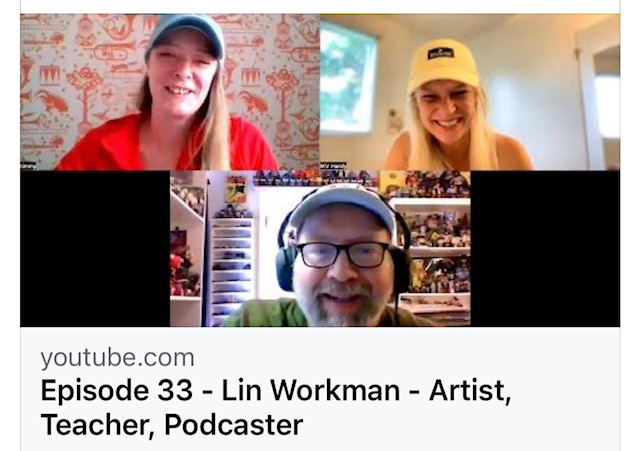 When I was on the podcast back on Ep. 33 we discussed my art career and the many sketchcards sets I've been  a part of, as well as sharing what I've learned over the years.
One of the more recent sets I'd been a part of was the Gabe's Cave Season Four set.
I did 15 sketchcards for S4, and will be doing 10 more for their Season Five set later this year.
I got to talk to Gabe's Cave owner Marty Rossen on their YouTube channel. Some of my art in Marty and his son Gabe's collection has been featured  in other of their videos, but this was the first time I got to chat with Marty.
Gabe's Cave is an amazing comic and gaming shop in El Dorado, AR. The shop gives away sketchcards (or "art cards" as they like to say) on their YouTube channe to folks who watch and sign up. They also do amazing loot boxes as prizes- and they ship them to you for free!
I've got a couple of my Gabe's Cave Season Four artist returns available for sale at The Cellar on Bartlett Avenue in Bartlett, TN.
I've also got many more handdrawn sketchcards for sale at 901 Comics East out in Cordova, TN on Macon Road.
I have official artist returns, as well as personal sketchcards drawn on my own custom blanks. If you're interested in drawing sketchcards be sure to ask me about our MSCA blanks at one of our drawing events. We have them and lots of art supplies for attendees to use.
And if you'd like to hear more podcasts by Nicki and me be sure to check out the Drawing Funny podcast. You can find it on most podcasting platforms or by visiting the MSCA website or Drawing Funny site directly.