Hey, gang-
I've been recording, editing, and uploading more episodes of "Drawing Funny". Episode 16 will be going up this week- if I can keep from freezing to death! Thankfully the Batcave is actually quite toasty and comfortable.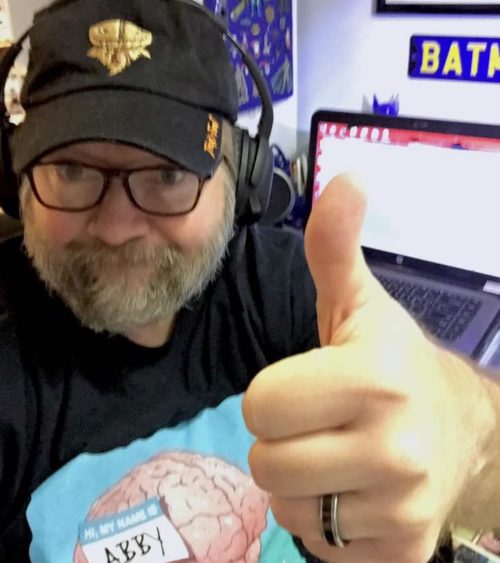 I've been talking with a few of the friends I've made over the years through the Comic Geek Speak Podcast. It just worked out that I've got back to back interviews with three CGS friends who are all doing Kickstarter campaigns this month! If you've been wanting more info on starting a comics crowdfunding campaign of your own, these guests share lots of advice. Here's a run down of those episodes and their links, as well as some info on those Kickstarter projects…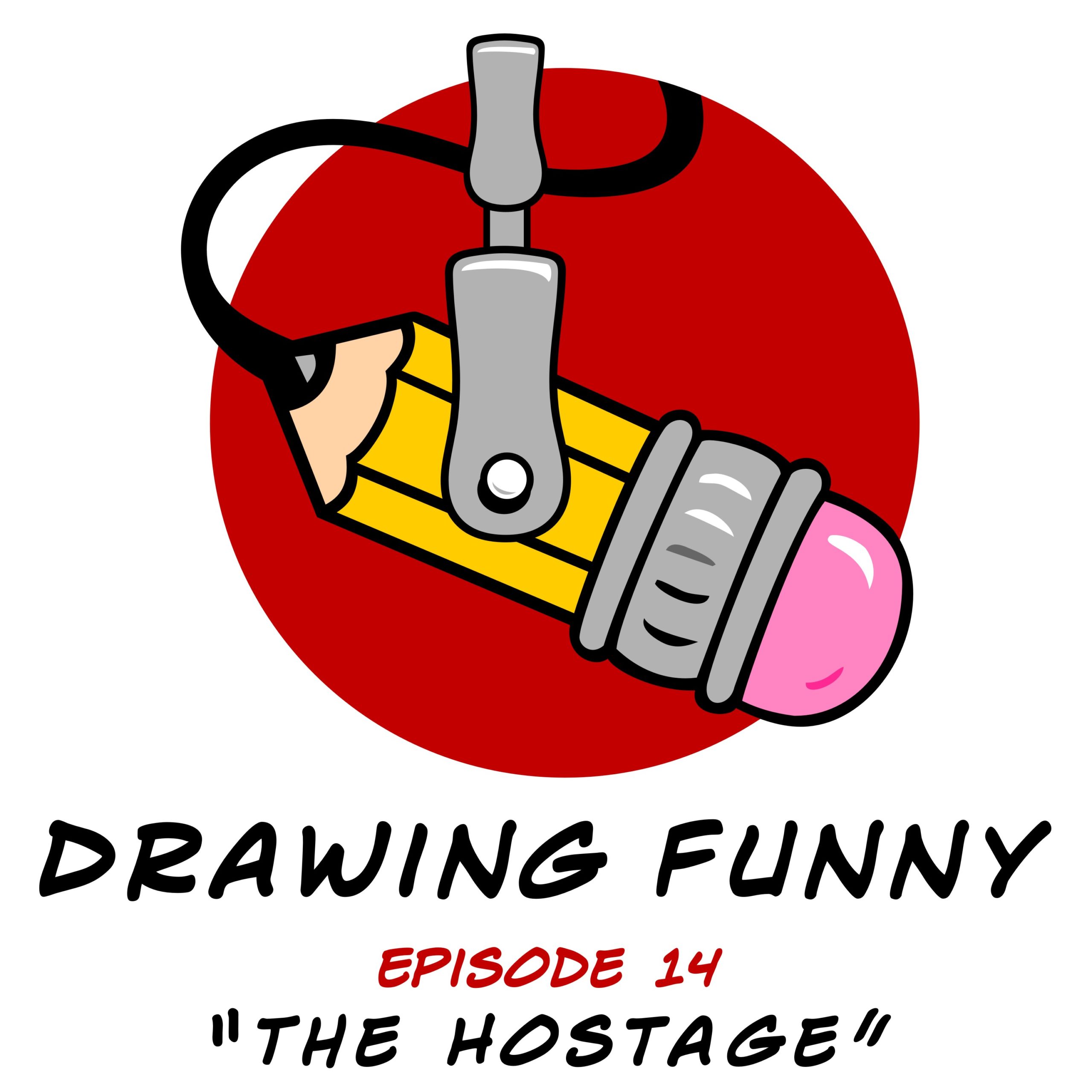 Episode 14 – "The Hostage" by Sal Abbinanti (Run time: 1hr 45min)
Show Notes: I talk toons and kickstarting art projects with Sal "Uncle Sal" Abbinanti. We discuss his early work in advertising, self-publishing comics, representing other artists, and his first ever Kickstarter for his first ever graphic novel- "The Hostage".
WARNING: F-bombs and other colorful language await you in this conversation with Sal.
From his Kickstarter campaign page:
By day, Sal Abbinanti is the art rep for comic book superstars Alex Ross and Bill Sienkiewicz, but by night he, too, is an artist. For more than two decades, the Chicago native has been obsessed with creating a graphic novel inspired by a visit he made to Brazil when he was in his early 20's. Now, Abbinanti is launching a Kickstarter campaign for his dream project, a 115-page full-color original graphic novel set in the favelas of Rio de Janeiro titled THE HOSTAGE.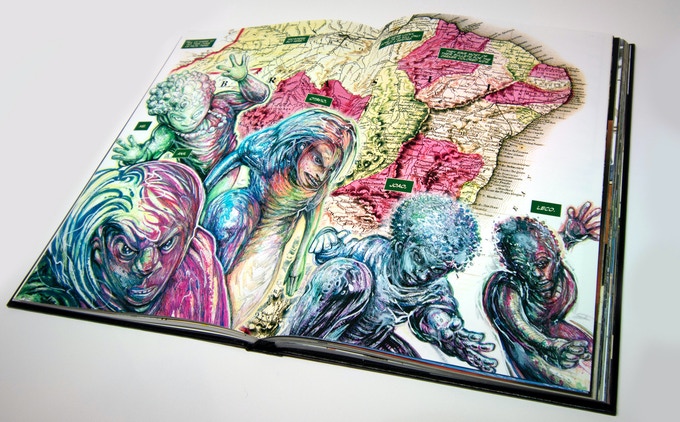 "When I was 25, I spent six months living in Rio de Janeiro," said Abbinanti. "I was a starry eyed, full of shit college kid who went there for a Brazilian vacation of samba, nightlife, and beaches. To see the level of poverty, suffering, and death in Rio de Janeiro was eye opening. I will never forget it. THE HOSTAGE is my tribute to the amazing country and especially to the kids living in the favelas of Rio de Janeiro."
Loosely inspired by the culture and religions of Brazil like the Umbanda and the Candomblé, Abbinanti has been building the world of THE HOSTAGE in his studio for over 10 years—sketching characters, panels, and scripting pages. Abbinanti's unique art style and vibrant color choices create a spellbinding effect. THE HOSTAGE tells the story of a group of street kids who are abandoned by society. Dying every day from poverty and gang violence, the kids join together and summon a mystical spirit—THE HOSTAGE—who will protect them and avenge the deaths of their friends.
THE HOSTAGE Kickstarter campaign includes limited edition lithographs from Alex Ross, Bill Sienkiewicz, Jeffrey Alan Love, Sanjulián, Geof Darrow, and Eric Powell, as well as tiers with original sketch cards, postcards, and bookmarks by Abbinanti.
The crowdfunding campaign is live now and concludes on February 25th, with pledge tiers ranging from a digital edition available in both English and Portuguese (translated by Kelsey Trotta), to The Complete HOSTAGE Package, which includes an 11×17 original drawing by Sal Abbinanti and a complete set of lithographs by all guest artists.
For updates, follow Sal on social media or on Kickstarter at the links below:
"The Hostage" Kickstarter by Sal Abbinanti – kickstarter.com
Alex Ross Art – www.alexrossart.com
Sal Abbinanti on Twitter – @SalAbbinanti
Sal Abbinanti on Instagram – @salabbinanti
Mercury Comics on Twitter – @comics_mercury.
Episode 15 – "Party Monster" Dave Dwonch (Run time: 1hr 19min 52sec)
Show Notes: I talk toons, kickstarting art projects, married life, health issues, and "real nerd $#*+" with the man with the golden couch, Party Monster Supreme – Dave Dwonch. We discuss his early work with Action Lab Comics, his upcoming "Jenny Zero" mini-series with Dark Horse Comics, and his current Kickstarter for his graphic novel- "SPORES: The Broken Circle". Dave has been a man on the move!
WARNING: F-bombs and other colorful language and adult situations await you in this comics conversation with the man with the golden couch, Dave Dwonch.
From his Kickstarter campaign page:
The continuing adventures of private school kids trapped in a VERY different kind of apocalypse. Prom was just the beginning…
From the creators of Mind Palace and Prom of the Dead comes the next installment of the coming-of-age horror series SPORES: THE BROKEN CIRCLE!
When last we saw the surviving students of the Pineview Academy, they had survived the worst night of their lives, aka Prom Night. Now, just one day later, Erika, Travon and Shauna are on the road looking for safety in an ever-increasingly hostile world. Little do they know that the worst is yet to come as the 'friends' they abandoned the night before are coming for them.
Dave Dwonch (co-creator of the upcoming Dark Horse series "Jenny Zero"- see below) reunites with Santi Guillen (Mind Palace) to continue the "SPORES" saga with more twists, turns and betrayal than any teen drama has any right to contain!
All or nothing. This project will only be funded if it reaches its goal by Sun, March 7 2021.
JENNY ZERO #1 Sex, Drugs, and Giant Monsters!
Meet Jenny Tetsuo, the hard drinkin', hard partyin' daughter of beloved superhero, Mega Commander Zero. After washing out as the military's top Kaiju-killer, "Jenny Zero" now lives the celebutante life with her hotel heiress and publicist best friend, Dana Sheraton. But when the massive creatures return, Jenny must decide if she can sober up and save the world!
From Dave Dwonch (Cyrus Perkins and the Haunted Taxi Cab, Mind Palace), Brock McKinney (MAD Magazine, Full Moon Deadly Ten films) and superstar in the making, Magenta King comes a new hero for a new decade!
You can pre-order this miniseries through your local comic shop or online retailers through Diamond Distributers.
Publication Date: April 14, 2021
Format: FC, 32 pages; Miniseries
Price: $3.99
UPC: 7 61568 00695 7 00111
Episode 16 – "Athena Voltaire" By Steve Bryant (airs later this week)
I talked to Steve Bryant yesterday (Sat.2/13), and will have the show up this week. We discuss his latest Kickstarter for "Athena Voltaire and the Terror on the Orient Express" comics and graphic novel.
From his Kickstarter campaign page:
A graphic novel starring globe-trotting, Nazi-punching, monster-killing adventuress Athena Voltaire!
An all-new 120 page graphic novel starring globetrotting aviatrix Athena Voltaire.
"Athena Voltaire and the Terror on the Orient Express" finds the heroine reconnecting with an old friend during a personal trip on the famed train line. When an old foe sets a plan in motion, the voyage turns deadly, as Athena must find the source of horrific slayings that are terrorizing the passengers!
Planned for issues 9–12 of the Action Lab Athena Voltaire ongoing series, the prologue follows Athena on a mad dash to the train station. This sequence serves as a framing sequence to tell tales of the adventuress' past.
Get "Athena Voltaire and the Terror on the Orient Express" as 4 individual Kickstarter-exclusive comics (ATHENA VOLTAIRE ongoing series issues 9–12), and the variant covers: the retro variant (issue 9), the Mike Norton variant (issue #10), the homage variant (issue 11), and the Bobby Breed variant (issue 12)! Plus the PDF of "Athena Voltaire and the Terror on the Orient Express" and the Kickstarter-exclusive print. Lots of other items, incentives, and combinations available- it's cray-zee!
You can find out more about Steve and his Kickstarter at: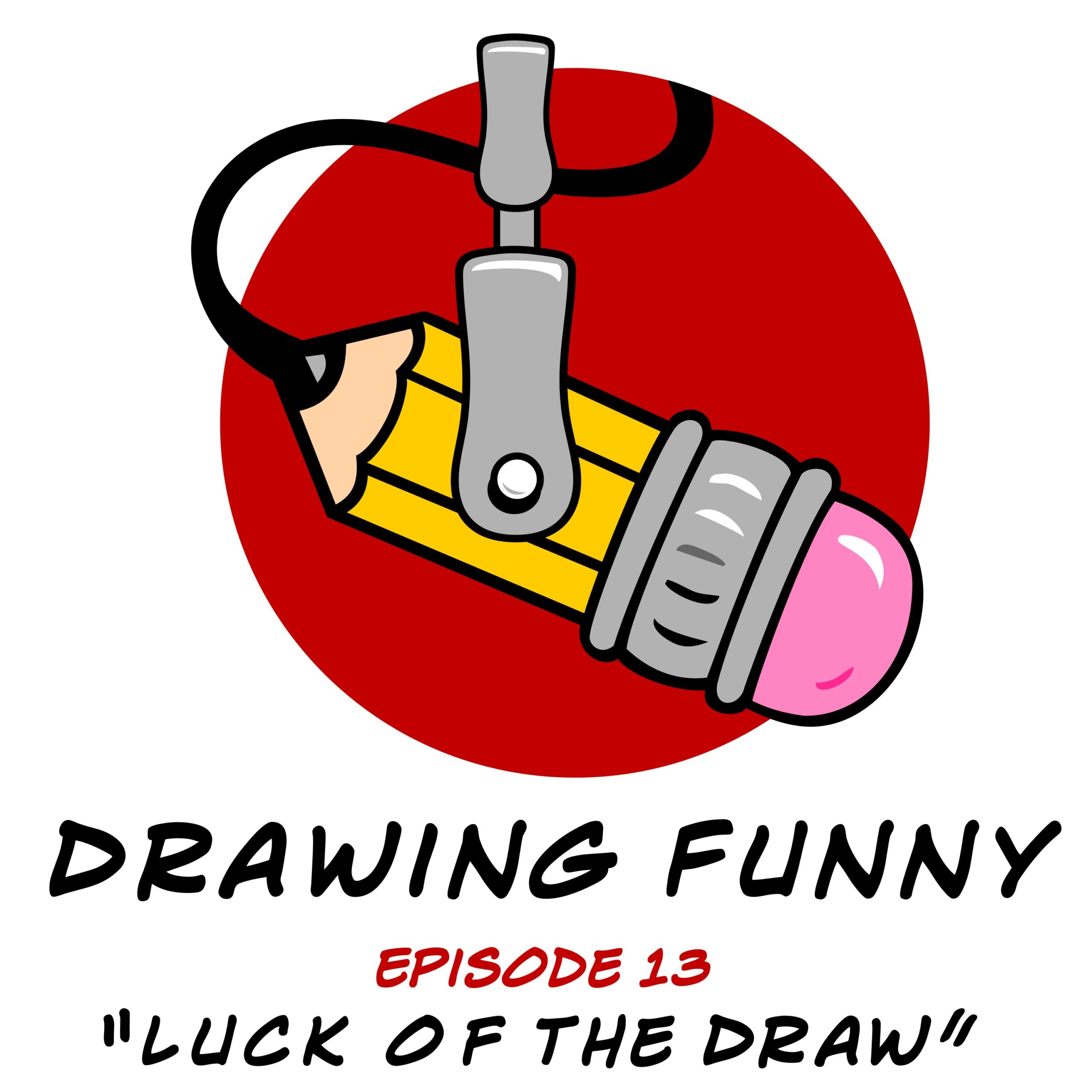 "Feeling lucky…" Then listen to Episode 13! (Run time: 18min 13sec)
I was going to use a bit of the MSCA Zoom meeting but had some technical difficulties- but Idid  announce the details for our first "Drawing Funny" contest (listen to win a set of MSCA Zines, Samurai tee by me, and some MSCA and Drawing Funny swag). I also give a few art tips, and I discuss some of what I've learned from my days of self-publishing comics.
Regrets, yeah- I've had a few, and few enough to mention here on this episode.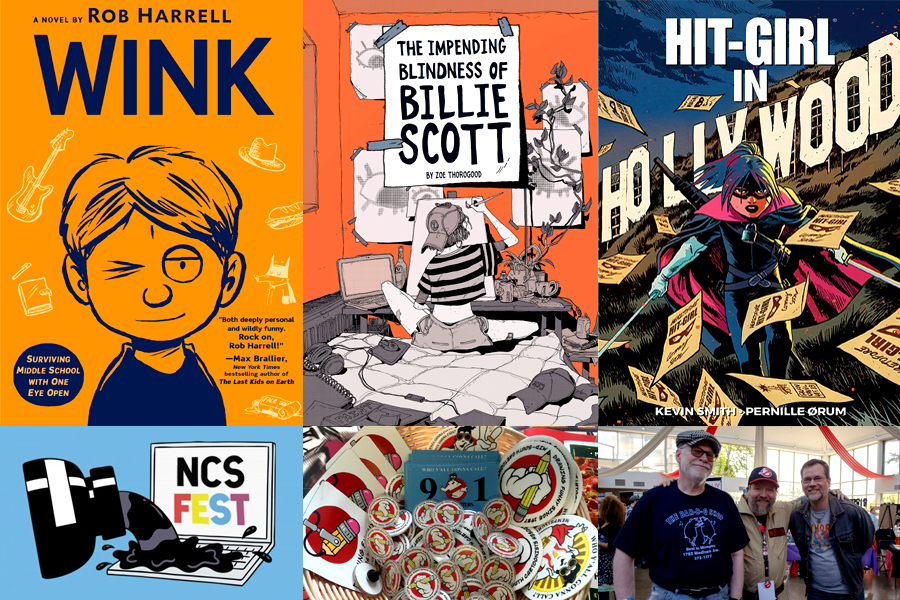 Oh, and in Episode 12 – "The Dirty Dozen (or so)" I've got a few reviews and reading recommendations for you- "WINK" by Rob Harrell, "The Impending Blindness Of Billie Scott" by Zoe Thorogood, and the NCSFEST are my recommendations- but I also review "Hit-Girl In HOLLYWOOD" by Kevin Smith (and don't really recommend it so much). I also have some MSCA news, say goodbye to some local Memphis talents- George Hunt, Anthony Biggers, and Chris Jarman, and say good riddance to 2020. (Run time: 26min 21sec)
You can find all of the Drawing Funny Podcast episodes at www.drawingfunny.com or most anywhere you like to listen to podcasts. Be sure to like, subscribe, and share!
If you have a project you'd like to discuss on the show and/or have featured here on our website please let us know through our social media accounts or by contacting me or MSCA president Kevin L. Williams at midsouthcartoonists (at) gmail (dot) com.
"Stay tooned!" (and stay warm!)
Lin