Well, after 35 years of drawing funny in the mid-south, we're ready to do it some more next year!
MSCA MONTHLY DINNER MEET-UP AT GARIBALDI'S PIZZA
Our 35th anniversary year was packed with MSCA and member events (art shows, library display, dinners, etc.) and we started off the new year right with our first dinner meet up of 2023 onTuesday, January 3rd from 6-8pm at Garibaldi's Pizza's U of M location. It's just off Walker near the Highland Strip and Southern, and across from the Tiger Book Store. We had another great turnout for this month's dinner.
The dinner meetings are always free and open to the public, but you may want to bring a few extra bucks to order something off the menu to eat and/or drink. If you have kids who are interested in cartooning, if you are a kid and want to learn from some comics professionals, or are just a kid at heart and love cartooning then stop on by. FREE parking!
Be sure to bring a parent and/or a friend along, too. We don't teach classes at the dinners (that's a separate event), but we do freely share tips, tricks, techniques, and sources. (Be sure to check out our links page for more helpful info!)
Also, if you attend be sure to bring some of your latest work to show around (sketchbooks, portfolios, works in progress, printed pieces, etc.) and don't be afraid to show them to members, or share any promos you may have to hand out. We usually have a freebie table for those items so feel free to add to them or pick up some to take home.
Don't forget to bring something to draw with, or be shy to ask to borrow a pen or pencil. Spontaneous sketching often happens during these events, and it's always encouraged.
It doesn't matter what hand (or foot) you draw with, what/who you sketch, or what you doodle on – sketchbook, notebook, sketchcard, sketchcover, jam piece, or even a napkin. There's always plenty of those around.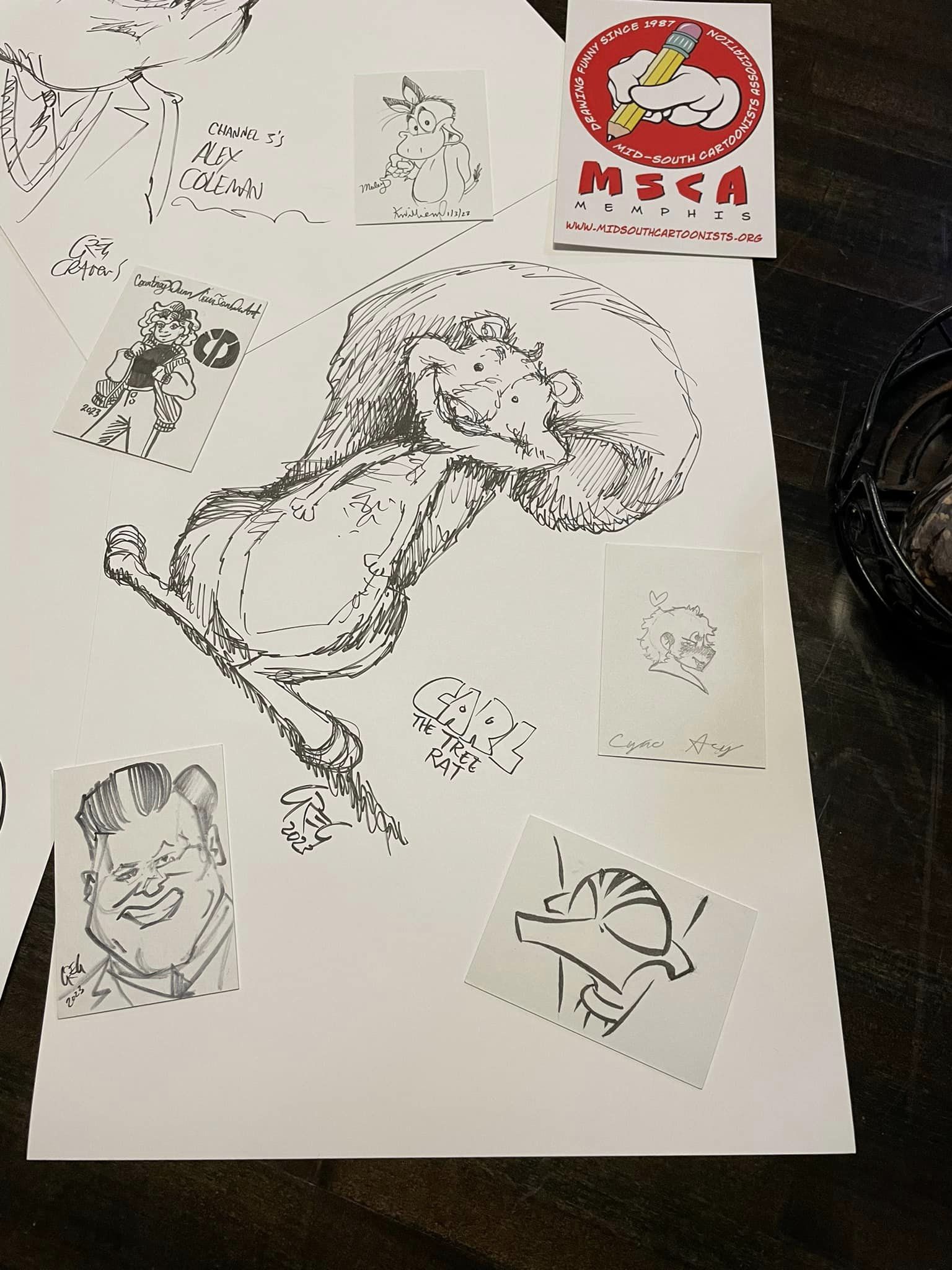 This month I had some of our members do sketches for the press promo pizza boxes I'm working on, so thanks to everyone who drew one for me. I'm going to be putting them together this weekend and out to the local news media soon.
Thanks to the staff at Garibaldi's for letting us gather there each month (and the pizza boxes). It was great to finally get back to meeting in person again last year, and we look forward to being back there in the big room again throughout 2023!
Garibaldi's Pizza
3530 Walker Ave
Memphis, TN 38111
(901) 327-6111
www.garibaldispizza.com
MSCA DRINK-N-DRAW
This month we'll be experiencing our very first MSCA Drink-N-Draw event hosted by 901 Comics East out in Cordova on Wednesday, January 18th from 6-8pm. We've been known to drink and draw at our dinner meetings, and at con-related drink-n-draws, but this is officially our first! 901 Comics East now has a bar, gallery space, and gaming area. We are looking to make this a quarterly event at the friendly neighborhood comic shop.
The bar serves beer on tap and in cans- including some local brews. If you don't drink beer, there are sodas, water, and some individual pizzas and snack items. So bring your art supplies and a few bucks to order something to drink/eat while you draw, and a designated driver. There is no theme or no real rules (other than 21 or older if you plan to drink beer), so feel free to draw or work on whatever art you'd like.
901 Comics East
8551 Macon Rd, Cordova, TN 38018
(901) 249-7959
www.901-comics.business.site
On Facebook – 901 Comics East/901 Games East
Take Germantown Pkwy. to Macon (Malco and Whataburger), go about a half mile up and after the post office take the left at the 3-way stop, and then a right at the next 4-way between the school and apartments. Continue on Macon about another block or two, continuing straight after the 3-way stop at Dexter. The comic shop will be on the right in the shopping center next to the Pit Stop food truck court (the Greenline runs behind the shopping center).
There are several locally created comics for sale at 901 Comics as well!
MSCA SKETCHY SATURDAY
Later this month on Saturday, January 28th the MSCA will be hosting our first "Sketchy Saturday" at 901 Comics East from 10am until 2pm. It's going to be a free hands-on workshop.
If anyone is interested in joining in on creating some sketchcards and sketchcovers please stop on by. I'll have plenty of sketchcard blanks and a few sketchcover comics to share while they last, but if you need any 901 sells some blank sketchcovers, too. 
I'll have some markers to use and extra Bristol paper to play on if anyone needs them or wants to learn how to color with markers. I'll have a mix of Copics, Letraset, Prismacolor, and Sharpies on hand, plus some extra pencils, Pigma Micron and Gelly Roll pens, and other art supplies.
Please feel free to bring any supplies you'd like to use and/or your own sketchbook to work in. I'll have some card sleeves for finished cards ((901 sells packs of 100), and we'll have some art books for folks to look through for those who might need some inspiration and/or reference. We'll be in a comic shop so that should help with getting inspiration, too!
Some of you may remember many of our members getting together at Bookstar on Poplar, Adam Shaw's studio on Broad Ave., Michaels in Olive Branch, and other locations when we'd get together to just hang out, draw, and have fun together. If you're not interested in drawing on sketchcards or sketchcovers, do come on by and like I said bring a sketchbook or other art project to work on with us. 
As with the drink-n-draw event, if this goes well we'll look at doing more "Sketchy Saturday" type of events in 2023. We'd like to keep these casual and more of a social sharing of ideas and techniques than an actual art class, but if anyone would like to host/teach a class or if there is something you think would work as a project just give me (Lin Workman) or MSCA president Kevin Williams a yell- midsouthcartoonist(at)gmail(dot)com.
These gatherings are to encourage setting aside time to draw, being social/networking, and sharing ideas, news, and techniques with others. Hopefully it will give us some additional meet-up opportunities for anyone who can't make our monthly dinner ones at Garibaldi's. 
Kev  sends out an email reminder before events so be sure to join the mailing list. I try to post heads up online on social media and our site here, but here's the 2023 dinner schedule if you need it.
Our podcast Drawing Funny is now in it's third season and we'll have a few more episodes dropping in January, including the 50th episode- "stay tooned!"
And if you'd like more info on the MSCA and/or how to become a member, either check out our ABOUT US page, shoot Kev an email, click the player above, or stop by an event and ask us in person.
I hope you can attend one or all of our 2023 events- we'd love to have you join us!

Lin