From MSCA member and zine publisher/editor, Dale Martin:
Hi there, Memphis friends!
I'm hoping that your weekend will be a good one, and I'd like to invite you to kick if off with an opening night reception for my "Beyond the Emerald City" show at Playhouse on the Square (66 South Cooper St.)! It's this Friday (Nov. 11), from 5-7 p.m., just off the second floor lobby.
Admittedly, this show– a fan art love letter to the novels– is more comfort food than a palate-expanding meal … but sometimes mac & cheese is just what one needs, isn't it? To stay on-theme, I'm bringing additional Oz goodies (prints, notecards, comics) and original art for sale at the event!
Can't make it on Friday? My show is on display until Dec. 28, and you can stop in to see it during any of POTS open hours or prior to showtime ("The Wizard of Oz" is playing thru Dec. 22). I'll also be participating in a Holiday Pop-up on Saturday, Dec. 10 (10-1:30, before that day's matinee) with Martha Kelly (who also has a beautiful show running now at POTS that you would enjoy) and others. You'll learn more about that in my next monthly newsletter (if you're subscribed to it)…
Hope to see you on Friday!
– dale.
P.S. – if you want to sign up for my monthly email newsletter (featuring comics!), you can sign up at the link below…
Newsletter subscription: eepurl.com/bawHc9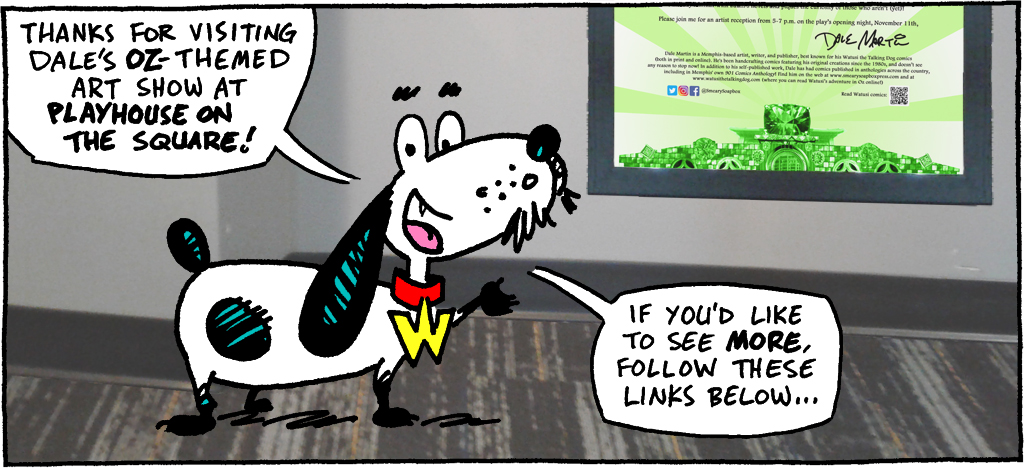 Dale Martin, Cartoonist / P.O. Box 11291 / Memphis, TN 38111www.smearysoapboxpress.com
Handcrafting comics since 1985! 
Playhouse on the Square
66 South Cooper Street, Memphis, TN 38104
HOURS: Monday – Friday: 9AM – 5PM
Phone: (901) 725-0776 / Fax: (901) 272-2309
Email: info@playhouseonthesquare.org