Hey, gang-
Nicki and I are doing some maintenance and redesign of the MSCA site, so things will be looking different here. Be sure to share your art/member news and links for future posts.

"What the hell are you doing..?!!"
Here's what's been going on and/or coming up in the MSCA…
Shockheaded Peter A Junk Opera
MSCA member Andrew Chandler emcees the play "Shockheaded Peter A Junk Opera" at Theaterworks!  CLICK HERE to learn more.
October 29 – November 14, 2021
Shockheaded Peter
Fridays & Saturdays at 8:00, Sundays at 2:00
ADDED DATES: Thursday Nov. 4 at 7:30, Friday Nov. 5 MIDNIGHT SHOW, 12:00 am
​Please note: Sunday Oct. 31 is sold out.
Created for the stage by Julian Crouch and Phelim McDermott. Original music and lyrics by The Tiger Lillies. Originally conceived and produced by Michael Morris for Cultural Industry, London
Directed by James Kevin Cochran
Musical Director Eileen Kuo
​
SHOCKHEADED PETER is a musical adaptation of the Der Struwwelpeter by Heinrich Hoffman, an 1845 German children's book of short stories and poems about the disastrous consequences of misbehavior. SHOCKHEADED PETER features a sinister but incompetent master of ceremonies who leads the audience through the tale of a childless couple that has their fondest wish granted in the most delightfully dreadful way imaginable, accompanied by songs, puppetry, and vignettes in which the hilariously horrible fates that befall naughty children everywhere are brought to darkly comedic life.
Cast:
Emcee . . . . . Andrew Chandler
Lead Singer . . . . . Ryan Scott
Ensemble . . . . . Mersadies Burch, Patricia Carreras, Julia Hinson, Franklin Koch, Marianne Orendorff, Amy Rush, Ashley Trevathan, Johnathan Underwood, Jen Wood-Bowien
MAW Productions Murals
MSCA member Martheus Wade has been featured in an article about the mural featuring many characters from the MAW Productions Universe!

The mural was painted by the Jetta team- Martheus (top/L) & Janet Wade(bottom/L), Anakin Wade(sitting/C), Damarco Randle(top/R), and Kevin Williams(bottom/R).

CLICK HERE to read it on BLAC®, which is the premier lifestyle magazine for African Americans in and around Memphis.

Recently as part of #paintmemphis 2021, Martheus, Janet Wade, Anakin, Damarco, and Kevin were painting murals again downtown!

The Jetta mural took 17 hours over 3 days to complete.

If you're in the Memphis area, head down to 660 BB King Blvd (on the Georgia Street side) for that mural and many more- including an awesome Avatar: The Last Airbender one by Damarco Ranldle– which took 40 hours of work!

Do you own a business or know someone who needs branding help..? Don't forget to check out www.MAWProductionsLLC.com who can take care of all those needs as well.
Hernando Skates!

On Saturday, October 16th, Nicki and I went to check out the Hernando Skate Park 6th Anniversary event at Pidgeon Park in Hernando, MS.

The skatepark is just around the corner from us and Nicki had a new mirror-less digital camera she wanted to play with.

There was a great "Hernando Skates" turnout- lots of spectators, many bands performed, and several skaters of all skill levels took to the concrete.

There was even a landshark in the bowl..!

There was some serious defying of gravity going on…

…well, sometimes gravity can be a harsh mistress..!

Trust me, I was reminded the first time I tried going in!

You can read more about that time when Kevin Thorn, Greg Cravens, Mike Womack, their kids and I checked out the skatepark on my Have Geek travel blog.
MGB at Malco Olive Branch!

"Who y'all gonna call?"

Saturday, November 20, 2021 AT 12 PM – 2 PM
Malco Olive Branch, 6430 Goodman Rd, Olive Branch, MS 38654

The Memphis Ghostbusters will be in person at the Malco Cinema Grill in Olive Branch, MS to celebrate the release of the new Ghostbusters: Afterlife movie.

The local Memphis Ghostbusters franchise (founded by Kevin Williams and myself/Lin), will be in uniform to meet and do photo-ops with fellow ghostheads.

We'll be set up outside the entrance to the theater, unless the weather is bad and then we'll be inside the lobby.

We will be masked and socially distancing per Malco rules and guidelines.
2022 MSCA Art Show Scheduled
We have a chance to be part of an art show at Germantown Community Theater in January 2022, to coincide with the play The Complete History of America (abridged) (synopsis is below). We need MSCA members to commit to 12 medium to large size pieces which will work in their space and history of America theme, so if we have 6 – 8 artists commit we can fill it.
We're allowed to sell the pieces keeping 60% and the theater gets 40%.
Who's in?? Please let Kevin know VERY soon, and the art will be due by our first in-person meeting the first Tuesday in January 2022. You can email Kev at midsouthcartoonists (at) gmail (dot) com.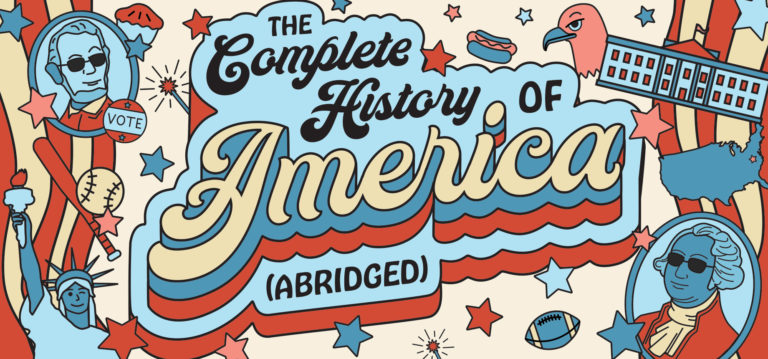 The Complete History Of America (abridged)
With a ten year run in the West End at the Criterion Theatre, The Complete History of America (abridged) ought to be funny. And informative. And it's both. In the short space of ninety minutes, Adam Long, Reed Martin and Austin Tichenor take us through 600 years of History, from Washington to Watergate, from the Bering Straits to Baghdad, from New World to New World Order – The Complete History of America (abridged) is a breakneck rollercoaster ride through the glorious quagmire that is American history. 
Tackling such controversial questions as: Who really discovered America? Why did Abe Lincoln free the slaves? How many Democrats does it take to screw in a light bulb? – absolutely nothing is sacred in the authors' unique satirical exploration of America's past.

"History has never been this much fun. Or as delightfully mutilated." Montreal Gazette
"This History of America should be a required course." – Boston Herald
Germantown Community Theatre is a non‐profit 501(c)(3) organization set in an intimate 98‐seat theatre located at 3037 Forest Hill‐Irene Rd. GCT provides both theatrical entertainment and educational opportunities for Midsouth families in an environment that nurtures creative expression and artistic growth. Our mission is to entertain, educate, engage, and enrich the community through theatrical programming.
Tickets may be purchased online (click here) or through the box office (901-453-7447). Box office hours are Tuesday through Friday 10:00am–3:00pm. During show days, the box office is open one hour before showtime. GCT accepts all major credit cards including Visa, Mastercard, Discover and American Express. 

This art show will be a great way for us to start celebrating the MSCA's 35th anniversary year!
We'll be discussing it and other plans for 2022 during our next monthly Zoom meeting call on Tuesday, November 2nd starting at 7pm. You can email Kev at midsouthcartoonists (at) gmail (dot) com for the link to join in on the comics conversation.

Hope you all have a Happy Halloween!
Lin