From MSCA member and "The Good, The Bad, and the Sketchy" editor/publisher, Dale Martin…
Greetings, comic readers & art fans! I hope your fall (or your "autumn", as the case may be) has gotten off to a good start! And not as busy as the start of mine…
It seems like a lot of opportunities with short deadlines dropped in my lap since I wrote the last of these newsletters. They've all been good things to take part in, but I really had to hit the ground running after my summer vacation, and things haven't really let up yet. I'll tell you more about those following this month's Watusi comic. Or NOT Watusi comic, since the overwhelming number of you wanted to see what lab monkey Mitchell would do when the Professor and Watusi rushed off on an emergency errand. Unfortunately, he was about to step on the remnant of Watusi's meteorite…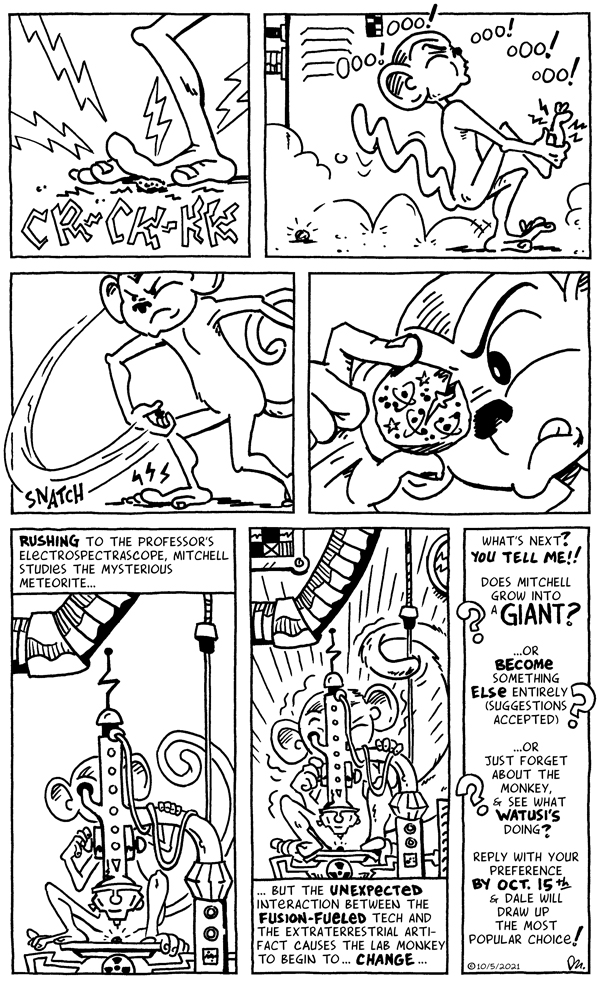 I may regret offering more than just two options this time! Be kind with any suggestions…
'What's next? GIANT Mitchell? [other] Mitchell? or Watusi?'
MONSTERS: MARKETS AND MELEES!
I'm happy to again be part of one of the most exciting popups in Memphis: Monster Market! It's operating as an online only store again this year, and is already racking up a surprising number of "SOLD OUT" buttons, so if you're interested, check it out sooner rather than later! As always, it runs only thru 10/31.
After a soft debut at last month's Memphis Zine Fest 6 (my first IRL event, which actually went pretty well), my new minicomic Monster Melee is getting its wide release as part Monster Market. I think it will be a good fit. Or at least as good as can be in a virtual shop where people can't pick it up and play with it…
You can read more about Monster Melee on my blog.
BULLSEYE: ARROW RETAIL SHOP
I've been trying to find an ongoing retail spot in Memphis to carry my prints & merchandise for some time, and that's finally a reality! Arrow Creative celebrated the grand opening of their new location in September with (among other things) the opening of their new retail shop … and I'm happy to share that I'm one of the inaugural group of artists in that shop! It's a great looking space, located just off Central at 653 Philadelphia Street, open Thursdays 10-4 and 10-6 on Fridays & Saturdays. Stop in and shop for a wide variety of goods– including art, jewelry, soap, hot sauce, and more– all from Memphis creators!
ON THE DRAWING BOARD…
I've been doing a number of prints focused on Memphis' musical legacy this year. These next two– that I plan to finish up this month to debut at my November event– spotlight storied recording studios Stax and Ardent!
SHOW & SALE DATES
I'm on "tap" to be one of the artists at Memphis Flyer's Crafts and Drafts on November 13th. It's been a great event in the past, and I'm looking forward to it, even while a little antsy about what the COVID situation might be like then. But, since that's out of my control, I'll try not to obsess over it. More on Crafts and Drafts (along with a proper spotlight on my new project, The Dragon Templar) next time!
In addition to Monster Market & Arrow, you can always shop a selection of my art & comics via my online storefronts:
TeePublic: the go-to spot to get my work printed on T-shirts & other merch! 35% off sale dates are scheduled for October 13-17 & 27-31; TeePublic's disclaimer is that "site-wide sales are subject to change, so the dates on the calendar are tentative", but they don't change them often. And when sales are on, you can't miss it when you visit the site! 
Square: your place for direct-from-the-artist comics, prints, & notecards. 
Selz: your site for instant downloadable digital editions of my comics. While I don't enjoy them as much as the printed comics, they're good in a pinch. And some of them are FREE, too!
As always, thank you for your interest in my work. I hope you have a happy & safe October, 
– dale.
Dale Martin
Creating comics featuring his original characters since 1982, Dale is a Memphis-basedartist, writer, & publisher. He's best known for a comic you've probably never heard of, Watusi the Talking Dog; fortunately, you can rectify that at www.watusithetalkingdog.com.
Inspired by Tim Corrigan and the small press scene of the mid-80s, Dale still enjoys self-publishing his comics. Crafting the finished form of a project is as much a part of his artistic process as the words or the pictures. In addition to his self-published work, Dale has had comics published in anthologies across the country.
Websites: watusithetalkingdog.com
smearysoapboxpress.com
Twitter: @smearysoapbox
Instagram: @smearysoapbox