Hey, gang-
Well, it's been a busy year for the MSCA, and the last quarter is gonne get even busier. But first here's what's happened so far in September…
First up was the Record Swap & Zine Fest at Crosstown Concourse over Labor Day weekend.
The two day event on Saturday and Sunday had numerous record vendors/dealers on the first floor.
Upstairs on the second floor he artists & zine creators were set up.
…and there even was an area where attendees could create their own zines.
I also saw  some familiar faces on the second floor, including local artists Tony Parker, Dale Martin, and Jason Negen.
Dale Martin was set up there both days. Dale had lots of his own original art, prints, comics, and zines for sale.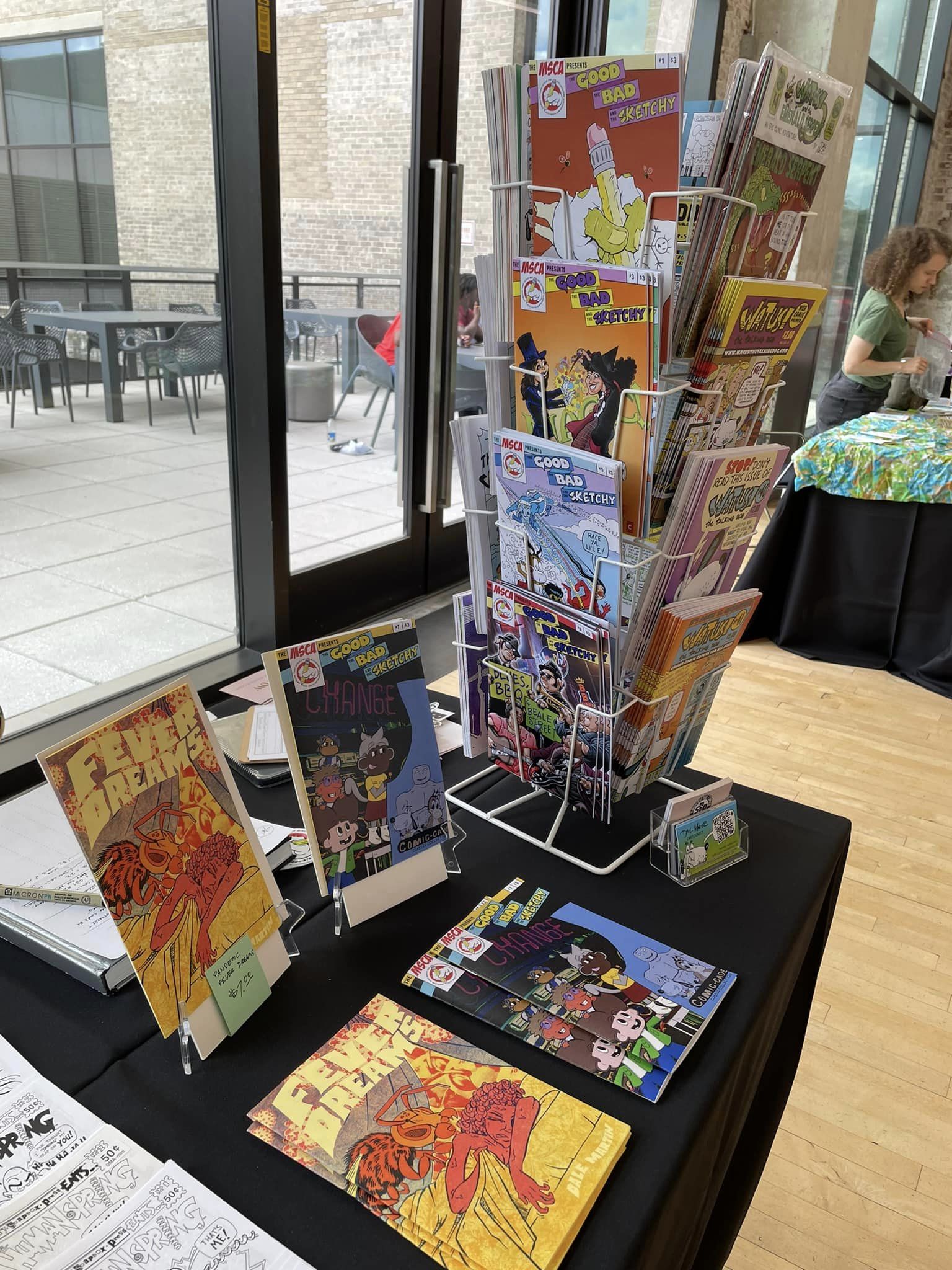 He was also debuting the new issue of the MSCA zine "The Good, The Bad, and The Sketchy" gaming issue with cover art by Devin Hodges (who was set up on Sunday only).
I purchased several items and enjoyed talking to all the creators and vendors while I was there. I hope to set up there next year with zines and trading cards, and sketchcards, and would love to see an MSCA group table/presence there.
This last Tuesday we got together again at Garibialdi's Pizza near the U of M. We had another great turnout for this month's dinner meet-up. We get together the first Tuesday of each month at Garibaldi's from 6-8pm. Our next one will be October 3rd.
\
The main topic of business this month was putting together more issues of the MSCA zine and divying up the issues to participating members and bundles to take to local comic shops around town.
Those zines, along with several comics by local creators, are now available at 901 Comics East (Macon Rd.), and will soon be at all 4 comic shops locations around town- 901 Comics (Cooper/Young), Comics & Collectibles (Poplar Ave.), and The Cellar (Bartlett, Blvd.).
Members at the dinner meeting also worked on their own art or checkec out the new gaming themed zine.
Plus some more work was done on the Vampire/Halloween jam piece which will be on display at the upcoming "Drawing Blood" art show.
We also had some freebies available including some blank sketchcards, which Ron Hicks drew on for the first time.
Sketchcards (or "art cards") are the size of normal trading cards like baseball cards, but have a surface made for drawing or painting on. The only limits to working on sketchcards are your imagination. You can create your own blanks, buy them at art stores like the Art Center (Union Ave. ), or become an official sketchcard artist for trading card companies.
I ususally have some MSCA blanks available at our Sat-Art-Days and Drink-N-Draw events. I also have some free 3 Stooges, Ultraman, and Halloween/Trick-Or-Treat blanks from RRParks Cards available now, too. Hit me up at one of our events if you'd like some.
I recently sent back 15 sketchcards to Gabe's Cave (El Dorado, AR), and they recently sent me this sweet banner.
Those cards will be given away on their YouTube channel. This is the second set/series I've done for Gabe's Cave.
After people ask what a sketchcard is, the next question asked is almost always, "What do you do with them when you're finished..?" Anything you want- trade, gift, donate, sell, hoard, etc. I sell most of mine (at shows online, or retail stores), or have been hired by card companies to be a part of a trading card set.
I've got several horror sketchcards that will be a part of theupcoming RRParks Cards Halloween Trick-Or-Treat card set this fall. The Kickstarter for it will be dropping soon.
This is the third Halloween set I've done for Richard Parks, andI'll have some bat base cards and lenticular (or should I say "LINticular" motion cards as part of the set. He was kind enough to send me a bunch of sketchcard blanks and trading card packs to hand out at our MSCA events.
Currently I have several of my official artist returns and personal sketchcards for sale at 901 Comics East in Cordova…
…and more along with a couple sketchcovers at The Cellar in Bartlett. More to come, and I plan on releasing a trading card set with sketchcards next year- "stay tooned!"
For those participating in our Dracula themed art show, "Drawing Blood" here's some info and dates for you.
The Mid-South Cartoonists Association's "Drawing Blood" art show begins with an opening reception Friday, October 13, from 5:30 – 8 pm, with a full run from October 27 – November 12, 2023, from noon – 4pm and during shows of "Dracula: The Bloody Truth" at Germantown Community Theater.  We will close out with an MSCA Fest from Noon – 4 pm on Saturday November 18, 2023.
The deadline to turn in your art is the October 3rd dinnier meeting at Garibaldi's. This art show will run inconjunction with Gremantown Community Theatre's run of "Dracula: The Bloody Truth" from October 27 – November 12.. The closing reception for the art show and 1 day MSCA mini-con will be in the building behind the theater.
OPENING RECEPTION: Friday, October 13, 2023, from 5:30 – 8pm. SHOW RUN:  October 17 – November 12, 2023, Noon-4pm and during shows at GCT. CLOSING RECEPTION/MSCA FEST!: Saturday November 18, 2023, Noon – 4pm behind GCT (this is also art pick-up day, too).
We'll have another Drink-N-Draw in October at 901 Comics East.
We'll also be a part of 901 Comics East's Halloween Comic Fest the Saturday before Halloween. This is a free event much like Free Comic Book Day. If you'd like to set up with us let me (Lin) or Kevin know. Table space is limited.
And if you get a chance, stop by the Monster Market. It's back in-person but for one week only!