Hey, gang-
We had another successful turnout for our November 1st MSCA dinner meeting at Garibaldi's Pizza.
We were back in the big room on the right again.
Members brought sketchbooks and portfolios of their work to show (those are Courtney's and Devin's).
And Greg came with his new Con Cards game. He had some sample packs to share with everyone.
He taught folks how to play the card game. It was pretty quick to pick up. He's looking to take the game on the road to cons around the country.
Thanks to Greg for my birthday present of a Con Cards collector tin and button. Keep an eye out here for upcoming news on his upcoming Kickstarter.
I normally try to bring some free MSCA swag and comics to share with the group. This time I had some MSCA magnets, some Halloween ComicFest comics from 901 Comics East, 3 Stooges and MST3K trading cards from RRParks Cards, candy, ConK flyers, and since we were celebrating my birthday I brought along some cookies, too.
Speaking of cookies, I share a birthday (today) with our special guest…
Cookie Monster stopped by to wish me a happy birthday, and eat some cookies!
Was glad my wife Nicki was able to come along. She actually ran into our friend Traci and got to hang with her for a bit. They haven't been able to see each other much lately because of work and school.
Dale Martin popped in for a second, but had to leave. He did drop off some postcards for his current "Beyond The Emerald City" art show at Playhouse On The Square.
From Dale:
Made up of a selection of comic pages from my story, along with other Oz-inspired artwork, my "Beyond the Emerald City" show will be on display from October 14-December 28, 2022, in conjunction with Playhouse's staging of "The Wizard of Oz". That fortuitous timing (pointed out to me by someone else, since I had totally missed the opportunity it presented) was just too good to pass up, even if it meant completing work for the show on a tighter schedule than I'd have liked. Pushing deadlines can work when it comes to publishing comics online, but my paintings need time to cure before varnishing! Still, it all came together, and has made for what I think is a really satisfying show.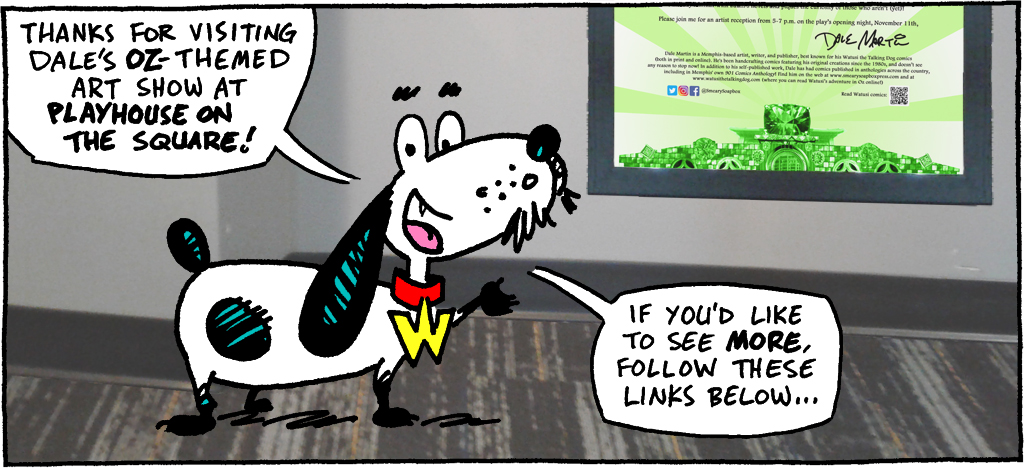 "Beyond the Emerald City" is an exhibition of OZ-themed comics & artwork, on display Oct. 14-Dec. 28, 2022 at Playhouse on the Square, 66 South Cooper St., Memphis.
Please join Dale for an artist reception on Nov. 11, 5-7pm!
He's sharing a popup shop with artist Martha Kelly on Dec. 10, 10am-1:30pm!
To read "Watusi in Oz", start here. You can read the newest Watusi comic here.
On stage: "The Wizard of Oz" (Nov. 11 – Dec. 22) – get tickets here.
Other art on exhibit at Playhouse on the Square is by Priscilla Cunningham, Gerecho Delaney, Suzanne Evans, and Martha Kelly.
You can find lots of words (& some pictures) on Dale's blog. You can find lots of pictures (& some words) on his Art and Illustration page. Comics, of course, have both…
The Monster Market closed up shop on Halloween night. Dale and I both had art for sale in the online storefront. Don't know how well it (and we did), but the kickoff party on October 1st was slammed!
After our month long MSCA display in September at the Hernando Library Kevin and I put up a Ghostubsters one in it's place for October.
The library has 3 glass display cases in their west lobby entrance- one small and two larger.
We put a mix of the Ghostbusters movies, animation, and more form our collections, including some Memphis Ghostbusters and signed items.
Unfortunately we recently had to take it all back down to make way for their next displays. We hope to more displays and events with them in the future.
After the last Drawing Funny podcast episode, I realized we that I just reached the two year anniversary, and am now moving into season 3!
I started the podcast during the pandemic to help keep the MSCA members updated, record/save some of our zoom calls, talk toons with guests, and get the word out about our group and local happenings. Hopefully listeners have enjoyed it. If you haven't checked it out yest there are close to 50 episodes available to download. Just go to www.drawingfunny.com or anywhere you like to listen to podcasts.
Before I get out of here our next dinner meeting will be Tuesday, December 6th, from 6-8pm. Hope you can make it out, and if you got any Con Cards be sure to bring them along to play. We'll also be ding an art swap- more info to come on that.
Lin
Garibaldi's Pizza
3530 Walker Ave
Memphis, TN 38111
(901) 327-6111
www.garibaldispizza.com