Calling all podpeople– a new "Drawing Funny" podcast episode is available !
You can listen in the player above, online directly at www.drawingfunny.com, or most podcast platforms such as Spotify, Apple, and others.
Show notes: For this episode of Drawing Funny I take a trip to our couch to have a comics conversation with my wife and live-in I.T. person- Nicki Workman (with special guest appearance by our cat Jarael). This is a follow up to my Episode 47 – "Back To Basics".
While on our way home from the MSCA December dinner meet-up this month I told Nicki about a couple conversations with some fellow local creators recently. They had asked for my advice on their art and projects. Well, even though I do a podcast that offers advice on just about every episode (and even multiple times on each of those episodes), after my many failures and less than stellar art career I've been questioning my art expertise when it comes to giving advice. I asked her is she thought I was qualified, and that conversation led to this episode which includes some very good advice by her.
Not just on creating art, but some of the business basics of being creative for a living, as well as her life in corporate America, and reasons for continuing her education at this point in her life. Was happy to catch her on break between semesters to get her to share her thoughts. I'm super proud of her being able to juggle a full time day job and work trips while attending grad school online and keeping a 4.0 GPA at the same time. She's in the home stretch for her MBA!
I also have some local MSCA news about upcoming dinner meetings (next one is Tuesday, January 3rd), current and upcoming art shows and plays around town, as well as some news about the first ever MSCA Drink-N-Draw (Wed. 1/18/23) and Sketchy Saturday (1/18/23) at 901 Comics East (8551 Macon Rd, Cordova, TN 38018).
I actually edited some of this episode sitting at 901's bar while watching some of the World Cup highlights after work, and also back on my couch with Lena supervising me.
I plan on being back with another DF episode before the end of the year, and recording my 50th episode around the first of the year.
Also, as stated in the episode, we recently had our last MSCA dinner meet-up for 2022. We'll be back at Garibaldi's Pizza on Tuesday, January 3rd from 6-8pm.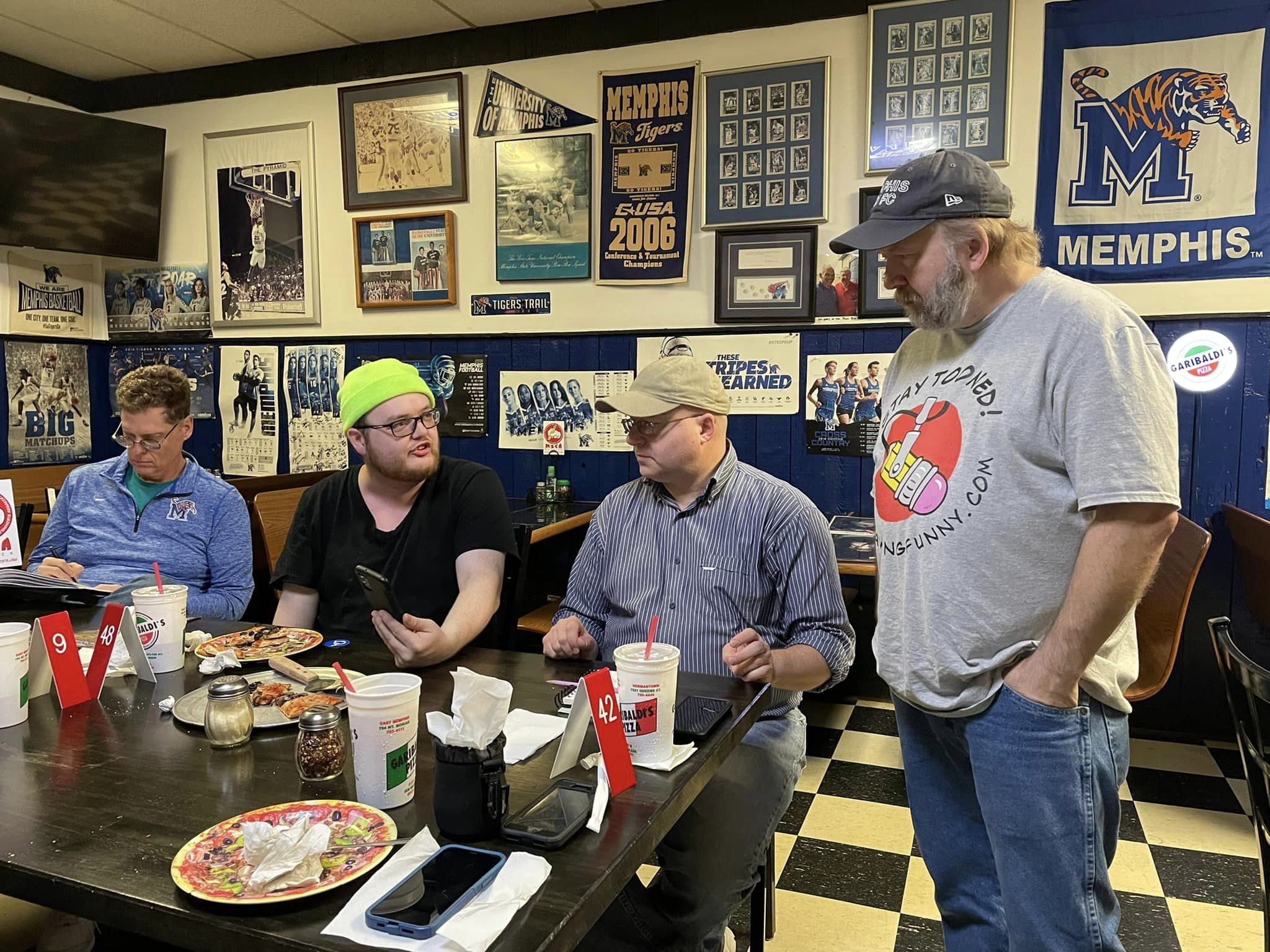 It has been great to be able to meet back in person again, and we had another great turnout with a good mix of old familiar faces and new!
Some sketchy things happened during dinner, including our "semi-annual" holiday art swap.
Members brought art pieces to swap with each other by drawing numbers out of a hat.
There were also more freebies available for attendees and restaurant staff to take home for the holidays.
Thanks to the staff at Garibaldi's for letting us gather there each month. Look forward to being there in 2023!
Garibaldi's Pizza
3530 Walker Ave
Memphis, TN 38111
(901) 327-6111
www.garibaldispizza.com
Lin